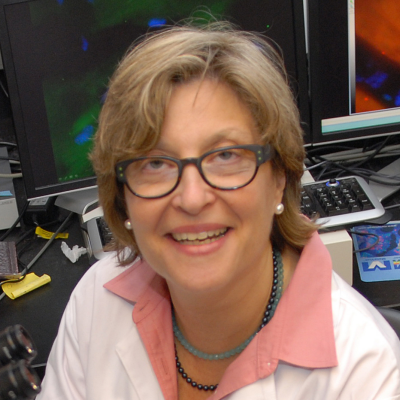 Randi B. Silver, Ph.D.
Professor of Physiology and Biophysics
Associate Dean, Weill Cornell Graduate School of Medical Sciences
rbsilve@med.cornell.edu
212-746-6354 (Office - Physiology)
212 746 5006 (Office – Graduate school office)
212 746 6260 (Laboratory)
1300 York Avenue, Room C-504 C
New York, NY 10065
Techniques
Research Areas
Research Summary:
Mast cells play an important role in inflammation and fibrosis. Mast cells, non-circulating cells residing in all organs from birth, exhibit great plasticity and the cellular microenvironment profoundly influences mast cell phenotype. Our lab is focused on understanding the contributions of mast cells to a variety of diseases including bronchopulmonary dysplasia, lung and kidney fibrosis and abnormal wound healing. Mechanistically we study how mast cell mediators and exosomes communicate with cells found in close proximity, like fibroblasts. Taking a multifactorial approach we perform in vivo and in vitro experiments using murine models of fibrosis as well as primary culture of murine and human tissue specimens, respectively, to better understand how mast cells impact disease. Our ultimate goal is to develop targeted therapeutics to prevent mast-cell-dependent structural remodeling and excessive collagen deposition.
Selected Publications:
Hoppe G, Yoon S, Gopalan B, Savage AR, Brown RM, Case KM, Vasanji A, Chan ER, Silver RB, and
Sears JE. Comparative systems pharmacology of HIF stabilization in the prevention of retinopathy of prematurity. Proc Natl Acad Sci USA. 2016; Vol. 113, Number 18, E2516–E2525. PMID: 27091985. Highlighted in: Editors' Choice Science Signaling. 9, (427):ec108 (2016), Cozzarelli Prize winner, PNAS and the National Academy of Sciences.
Veerappan, A, Thompson, Savage, A, Silverman,M, Chan, ML, Sung,MS, Summers, B, Montelione, KC, Benedict, P, Groh, B, Vicencio, A, Peinado, H, Worgall, S, and Silver, RB. Mast cells and exosomes in hyperoxia induced neonatal lung disease. American Journal of Physiology – Lung Cellular and Molecular Physiology Published 8 June 2016 Vol. 310 no. 11, L1218-L1232 DOI: 10.1152/ajplung.00299.2015 "APS Select" Recognition.
Veerappan, A, O'Connor, N, Brazin, JA, Reid, AC, Jung, A, McGee, D, Summers, B, Branch Elliman, D, Stiles, B, Worgall, S, Kaner, R, Silver, RB. Mast cells: a pivotal role in lung fibrosis. DNA and Cell Biology. 2013; 32(4): 206-218. PMID: 23570576; PMCID: PMC3624698.
Veerappan A, Reid AC, O'Connor N, Mora R, Brazin JA, Estephan R, Kameue T, Chen J, Felsen D, Seshan SV, Poppas DP, Maack T, Silver RB. Mast cells are required for the development of renal fibrosis in the rodent unilateral ureteral obstruction model. Am J Physiol Renal Physiol. 2012 Jan 1; 302(1):F192-204. PMID: 21957176; PMCID: PMC3251335.