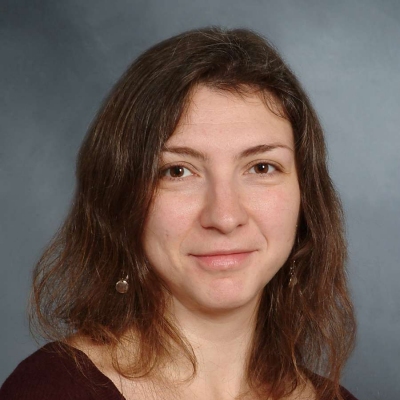 Radda Rusinova, Ph.D.
Assistant Professor of Research in Physiology and Biophysics
rar2021@med.cornell.edu
212-746-6221
1300 York Avenue, Room C-505
New York, NY 10065
Techniques
Research Areas
Research Summary:
Regulation of membrane protein function by the lipid bilayer is a multifaceted problem where the mechanisms span the range from specific interactions, requiring a binding site, to non-specific – protein/bulk bilayer interactions. The non-specific regulation comes about because the lipid bilayer and membrane proteins are energetically coupled, meaning that changes in bulk bilayer properties, such as thickness, may alter the protein conformational equilibrium. Both specific and non-specific mechanisms may be involved when lipid bilayer composition is altered as a result of physiological and pathophysiological processes, altering both the availability of specific phospholipids and bulk bilayer properties. Moreover, mechanism/s underlying the effects of amphiphilic, bilayer-modifying, compounds on membrane proteins may be mediated by the lipid-bilayer.  I aim to understand mechanisms underlying specific and non-specific regulation of membrane protein function. To answer these questions I have developed a stopped-flow fluorescence-based technique that takes advantage of quencher influx into fluorophore-loaded liposomes mediated by bilayer-embedded ion channels to determine ion channel activity as a function of fluorophore quenching. This stopped-flow ion flux assay allows for studies of time-dependent and steady-state processes in bilayers of defined composition. I have shown that KcsA function is regulated by changes in lipid bilayer properties. For example – increasing bilayer thickness shifts the KcsA closed-open equilibrium toward the closed state. I am currently working on distinguishing direct and bilayer-mediated mechanism of amphiphilic drugs on ion channels and varying gating process sensitivities to each of these mechanisms.  I will study lipid bilayer regulation of structurally and functionally diverse membrane proteins, focusing on identifying and parsing out features that are sensitive to non-specific bilayer regulation.  The goal of these studies is to aid in guiding development of novel drugs and drug leads by providing insight into their underlying mechanisms of action and thereby improving their therapeutic profile.
Recent Publications:
Cowan, LM, Strege, PR, Rusinova, R, Andersen, OS, Farrugia, G, Beyder, A et al.. Capsaicin as an amphipathic modulator of NaV1.5 mechanosensitivity. Channels (Austin). 2022;16 (1):9-26. doi: 10.1080/19336950.2022.2026015. PubMed PMID:35412435 PubMed Central PMC9009938.
Maer, AM, Rusinova, R, Providence, LL, Ingólfsson, HI, Collingwood, SA, Lundbæk, JA et al.. Regulation of Gramicidin Channel Function Solely by Changes in Lipid Intrinsic Curvature. Front Physiol. 2022;13 :836789. doi: 10.3389/fphys.2022.836789. PubMed PMID:35350699 PubMed Central PMC8957996.
He, C, Maniyar, RR, Avraham, Y, Zappasodi, R, Rusinova, R, Newman, W et al.. Therapeutic antibody activation of the glucocorticoid-induced TNF receptor by a clustering mechanism. Sci Adv. 2022;8 (8):eabm4552. doi: 10.1126/sciadv.abm4552. PubMed PMID:35213218 PubMed Central PMC8880771.
Rusinova, R, He, C, Andersen, OS. Mechanisms underlying drug-mediated regulation of membrane protein function. Proc Natl Acad Sci U S A. 2021;118 (46):. doi: 10.1073/pnas.2113229118. PubMed PMID:34753824 PubMed Central PMC8609545.
Ghovanloo, MR, Choudhury, K, Bandaru, TS, Fouda, MA, Rayani, K, Rusinova, R et al.. Cannabidiol inhibits the skeletal muscle Nav1.4 by blocking its pore and by altering membrane elasticity. J Gen Physiol. 2021;153 (5):. doi: 10.1085/jgp.202012701. PubMed PMID:33836525 PubMed Central PMC8042605.
Bosquesi, PL, Melchior, ACB, Pavan, AR, Lanaro, C, de Souza, CM, Rusinova, R et al.. Synthesis and evaluation of resveratrol derivatives as fetal hemoglobin inducers. Bioorg Chem. 2020;100 :103948. doi: 10.1016/j.bioorg.2020.103948. PubMed PMID:32450391 PubMed Central PMC8052979.
Doktorova, M, Heberle, FA, Marquardt, D, Rusinova, R, Sanford, RL, Peyear, TA et al.. Gramicidin Increases Lipid Flip-Flop in Symmetric and Asymmetric Lipid Vesicles. Biophys J. 2019;116 (5):860-873. doi: 10.1016/j.bpj.2019.01.016. PubMed PMID:30755300 PubMed Central PMC6400823.
Dockendorff, C, Gandhi, DM, Kimball, IH, Eum, KS, Rusinova, R, Ingólfsson, HI et al.. Synthetic Analogues of the Snail Toxin 6-Bromo-2-mercaptotryptamine Dimer (BrMT) Reveal That Lipid Bilayer Perturbation Does Not Underlie Its Modulation of Voltage-Gated Potassium Channels. Biochemistry. 2018;57 (18):2733-2743. doi: 10.1021/acs.biochem.8b00292. PubMed PMID:29616558 PubMed Central PMC6007853.
Posson, DJ, Rusinova, R, Andersen, OS, Nimigean, CM. Stopped-Flow Fluorometric Ion Flux Assay for Ligand-Gated Ion Channel Studies. Methods Mol Biol. 2018;1684 :223-235. doi: 10.1007/978-1-4939-7362-0_17. PubMed PMID:29058195 PubMed Central PMC5971093.
O'Donnell, JP, Cooley, RB, Kelly, CM, Miller, K, Andersen, OS, Rusinova, R et al.. Timing and Reset Mechanism of GTP Hydrolysis-Driven Conformational Changes of Atlastin. Structure. 2017;25 (7):997-1010.e4. doi: 10.1016/j.str.2017.05.007. PubMed PMID:28602821 PubMed Central PMC5516944.
Rusinova, R, Koeppe, RE 2nd, Andersen, OS. A general mechanism for drug promiscuity: Studies with amiodarone and other antiarrhythmics. J Gen Physiol. 2015;146 (6):463-75. doi: 10.1085/jgp.201511470. PubMed PMID:26573624 PubMed Central PMC4664825.
Posson, DJ, Rusinova, R, Andersen, OS, Nimigean, CM. Calcium ions open a selectivity filter gate during activation of the MthK potassium channel. Nat Commun. 2015;6 :8342. doi: 10.1038/ncomms9342. PubMed PMID:26395539 PubMed Central PMC4580985.
Rusinova, R, Kim, DM, Nimigean, CM, Andersen, OS. Regulation of ion channel function by the host lipid bilayer examined by a stopped-flow spectrofluorometric assay. Biophys J. 2014;106 (5):1070-8. doi: 10.1016/j.bpj.2014.01.027. PubMed PMID:24606931 PubMed Central PMC4026792.
McCoy, JG, Rusinova, R, Kim, DM, Kowal, J, Banerjee, S, Jaramillo Cartagena, A et al.. A KcsA/MloK1 chimeric ion channel has lipid-dependent ligand-binding energetics. J Biol Chem. 2014;289 (14):9535-46. doi: 10.1074/jbc.M113.543389. PubMed PMID:24515111 PubMed Central PMC3975005.
Bruno, MJ, Rusinova, R, Gleason, NJ, Koeppe, RE 2nd, Andersen, OS. Interactions of drugs and amphiphiles with membranes: modulation of lipid bilayer elastic properties by changes in acyl chain unsaturation and protonation. Faraday Discuss. 2013;161 :461-80; discussion 563-89. doi: 10.1039/c2fd20092a. PubMed PMID:23805753 PubMed Central PMC3703894.
Rusinova, R, Hobart, EA, Koeppe, RE 2nd, Andersen, OS. Phosphoinositides alter lipid bilayer properties. J Gen Physiol. 2013;141 (6):673-90. doi: 10.1085/jgp.201310960. PubMed PMID:23712549 PubMed Central PMC3664701.
Rusinova, R, Herold, KF, Sanford, RL, Greathouse, DV, Hemmings, HC Jr, Andersen, OS et al.. Thiazolidinedione insulin sensitizers alter lipid bilayer properties and voltage-dependent sodium channel function: implications for drug discovery. J Gen Physiol. 2011;138 (2):249-70. doi: 10.1085/jgp.201010529. PubMed PMID:21788612 PubMed Central PMC3149818.
Michailidis, IE, Rusinova, R, Georgakopoulos, A, Chen, Y, Iyengar, R, Robakis, NK et al.. Phosphatidylinositol-4,5-bisphosphate regulates epidermal growth factor receptor activation. Pflugers Arch. 2011;461 (3):387-97. doi: 10.1007/s00424-010-0904-3. PubMed PMID:21107857 PubMed Central PMC3281421.
Geng, X, Du, XN, Rusinova, R, Liu, BY, Li, F, Zhang, X et al.. Specificity of Gbetagamma signaling depends on Galpha subunit coupling with G-protein-sensitive K(+) channels. Pharmacology. 2009;84 (2):82-90. doi: 10.1159/000227772. PubMed PMID:19590257 .
Rusinova, R, Shen, YM, Dolios, G, Padovan, J, Yang, H, Kirchberger, M et al.. Mass spectrometric analysis reveals a functionally important PKA phosphorylation site in a Kir3 channel subunit. Pflugers Arch. 2009;458 (2):303-14. doi: 10.1007/s00424-008-0628-9. PubMed PMID:19151997 PubMed Central PMC2852689.
Search PubMed