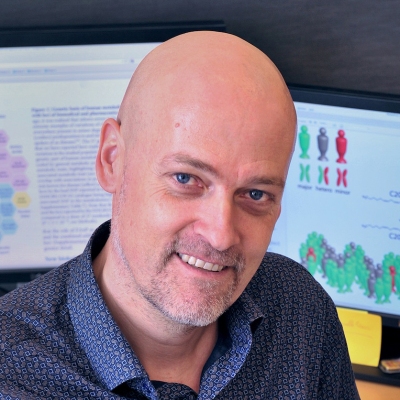 Karsten Suhre, Ph.D.
Professor of Physiology and Biophysics
Director of Bioinformatics Core at Weill Cornell Medicine-Qatar
kas2049@med.cornell.edu
+974 4492 8482
Location: WCM Qatar
Techniques
Research Areas
Research Summary:
In March 2011, I joined the Department of Physiology and Biophysics at Weill Cornell Medicine (WCM) as a Full Professor and was named Director of the Bioinformatics Core at the WCM campus in Qatar. From 2006 until joining WCM-Q, I served as Professor in the Department of Biology at Ludwig-Maximilians-University in Munich, Germany and as Group Leader for Metabolomics Research at the Institute for Bioinformatics and Systems Biology of Helmholtz Center Munich. Between 1994 and 2006, I served at the French National Centre for Scientific Research (CNRS), first as a Charge and then as a Director of Research, with a two year interruption (2000-2001), where I worked as a Project Engineer in the German Automotive Industry.
After a very interdisciplinary career in the Atmospheric Sciences, and then in Structural and Functional Biology, my research interests since 2006 are now at the intersection of metabolomics and and genomics and their role in human health. On these subjects, I have taught multiple courses, published over 180 articles in peer-reviewed journals, and delivered numerous international presentations. I identify as a Bioinformatician and Systems Biologist, with a strong expertise in designing and leading experimental work, as I am frequently generating my own data as a Principal Investigator using fee-for-service providers.
As a faculty member of WCM since March 2011, I am now studying how genetic variation in human metabolism interacts with environmental challenges and lifestyle factors in the development of complex diseases, especially diabetes, cancer, heart and kidney diseases. My research has shown that knowledge of the genetic basis of metabolic individuality in humans generates many new hypotheses for biomedical and pharmaceutical research, and that it can eventually inform individualized therapy.
My current research efforts are to realize the true potential of the many recent discoveries I made in the field of metabolomics and genomics, by now translating them to clinical and biomedical application. For this purpose I am involved in setting up and supporting industry-level metabolomics and proteomics facilities in Qatar, conducting clinical studies with metabolomics read-outs, developing cell-culture based metabolomics assays for drug testing, mentoring large genome-wide association studies with metabolomics and proteomics, and running a bioinformatics core that focuses on whole genome sequence analysis for the identification of metabolically relevant gene losses in Mendelian disorders.
Selected Publications: