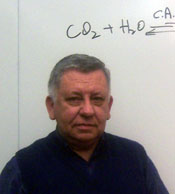 Gustavo Frindt, Ph.D.
Associate Professor of Research in Physiology and Biophysics
gfrindt@med.cornell.edu
212-746-6240
1300 York Avenue, Room LC-510
New York, NY 10065
Research Areas
Research Summary:
Our research aim is to define the transport processes of sodium and water and their control mechanisms in the renal collecting tubule. Two areas of investigation are being pursued. First, we have recently described in freshly dissected tubules the changes in activity of single sodium channels from the apical membrane of principal cells caused by variations in the intracellular sodium level. Channel activity is decreased when the rate of sodium entry into the cell temporarily exceeds that of sodium exit through the sodium pump, and increased when the rate of sodium entry is decreased. At the present we are studying whether calcium ion-dependent kinases are involved in the regulation of these sodium channels under conditions of changes in cell sodium. Second, we have cloned a protein located in the medullary collecting duct of the rat kidney that is a water channel when it is expressed in Xenopus laevis oocytes. This protein is a member of a family of membrane intrinsic proteins. Now we are studying the exact localization of the protein in the nephron cells and other organs, the selectivity of the channel for some small organic solutes, and whether the channel is regulated by the level of vasopressin and/or the water balance of the animal.
Recent Publications:
Search PubMed