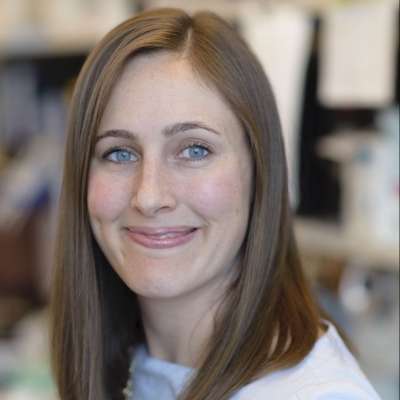 Ashley Laughney, Ph.D.
Assistant Professor of Physiology and Biophysics
Assistant Professor of Computational Cancer Genomics in Computational Biomedicine in the Institute for Computational Biomedicine
asl4003@med.cornell.edu
646-962-2739
1305 York Avenue, Room Y.13.04
New York, New York 10021
Techniques
Research Areas
Member of:

Research Summary:
Intra-tumor heterogeneity is a hallmark of cancer that has important implications for our understanding of tumor biology and its therapeutic control. It has complicated efforts to target only one gene or one population of tumor cells without considering how diverse tumor cell types or phenotypic states contribute to adaptive behaviors like drug resistance and metastasis.  The Laughney Lab integrates powerful systems biology methods – including massively parallel, single-cell RNA expression profiling with quantitative imaging technologies and mouse models of metastasis – to discover context-dependent interactions supporting the adaptive abilities of disseminated tumor cells (DTCs) and their interplay with anti-tumor immunity. We are particularly interested in dissecting tumor cell heterogeneity through the lens of tissue regeneration and repair. The understanding of cancer as a chronic, non-healing wound, has long invoked a central role for developmental pathways underlying normal tissue repair. However, the degree and fidelity of their enactment during tumor progression and under the selective pressures of immune surveillance, remains largely unknown. To address this knowledge gap, we are systematically dissecting lineage specific immune vulnerabilities across epithelial cell states observed in development and cancer progression. We also are exploring functional redundancies in key pathways that promote an immunogenic response by combining single cell methods with targeted perturbations. By integrating systems biology methods within a hypothesis driven framework, our goal is to better understand how developmental plasticity amongst individual cancer cells shapes immune susceptibility and lethal transitions like metastasis or the emergence of drug resistance.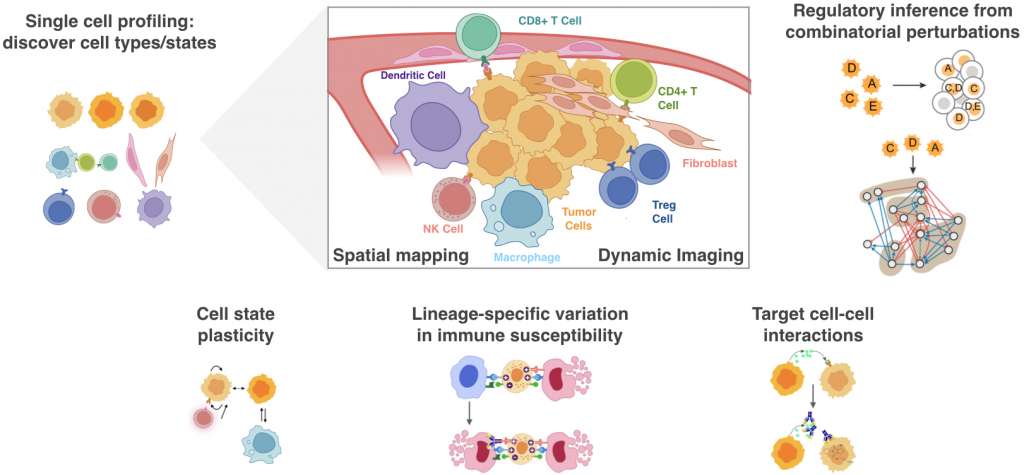 Recent Publications:
Santos, CP, Lapi, E, Martínez de Villarreal, J, Álvaro-Espinosa, L, Fernández-Barral, A, Barbáchano, A et al.. Urothelial organoids originating from Cd49fhigh mouse stem cells display Notch-dependent differentiation capacity. Nat Commun. 2019;10 (1):4407. doi: 10.1038/s41467-019-12307-1. PubMed PMID:31562298 PubMed Central PMC6764959.
Elizalde, S, Laughney, AM, Bakhoum, SF. A Markov chain for numerical chromosomal instability in clonally expanding populations. PLoS Comput. Biol. 2018;14 (9):e1006447. doi: 10.1371/journal.pcbi.1006447. PubMed PMID:30204765 PubMed Central PMC6150543.
Bakhoum, SF, Ngo, B, Laughney, AM, Cavallo, JA, Murphy, CJ, Ly, P et al.. Chromosomal instability drives metastasis through a cytosolic DNA response. Nature. 2018;553 (7689):467-472. doi: 10.1038/nature25432. PubMed PMID:29342134 PubMed Central PMC5785464.
Miller, MA, Gadde, S, Pfirschke, C, Engblom, C, Sprachman, MM, Kohler, RH et al.. Predicting therapeutic nanomedicine efficacy using a companion magnetic resonance imaging nanoparticle. Sci Transl Med. 2015;7 (314):314ra183. doi: 10.1126/scitranslmed.aac6522. PubMed PMID:26582898 PubMed Central PMC5462466.
Laughney, AM, Elizalde, S, Genovese, G, Bakhoum, SF. Dynamics of Tumor Heterogeneity Derived from Clonal Karyotypic Evolution. Cell Rep. 2015;12 (5):809-20. doi: 10.1016/j.celrep.2015.06.065. PubMed PMID:26212324 .
Bakhoum, SF, Kabeche, L, Wood, MD, Laucius, CD, Qu, D, Laughney, AM et al.. Numerical chromosomal instability mediates susceptibility to radiation treatment. Nat Commun. 2015;6 :5990. doi: 10.1038/ncomms6990. PubMed PMID:25606712 PubMed Central PMC4516720.
Laughney, AM, Kim, E, Sprachman, MM, Miller, MA, Kohler, RH, Yang, KS et al.. Single-cell pharmacokinetic imaging reveals a therapeutic strategy to overcome drug resistance to the microtubule inhibitor eribulin. Sci Transl Med. 2014;6 (261):261ra152. doi: 10.1126/scitranslmed.3009318. PubMed PMID:25378644 PubMed Central PMC4330962.
Sprachman, MM, Laughney, AM, Kohler, RH, Weissleder, R. In vivo imaging of multidrug resistance using a third generation MDR1 inhibitor. Bioconjug. Chem. 2014;25 (6):1137-42. doi: 10.1021/bc500154c. PubMed PMID:24806886 PubMed Central PMC4098115.
Agasti, SS, Laughney, AM, Kohler, RH, Weissleder, R. A photoactivatable drug-caged fluorophore conjugate allows direct quantification of intracellular drug transport. Chem. Commun. (Camb.). 2013;49 (94):11050-11052. doi: 10.1039/c3cc46089d. PubMed PMID:24135896 PubMed Central PMC3856557.
Laughney, AM, Krishnaswamy, V, Rizzo, EJ, Schwab, MC, Barth, RJ Jr, Cuccia, DJ et al.. Spectral discrimination of breast pathologies in situ using spatial frequency domain imaging. Breast Cancer Res. 2013;15 (4):R61. doi: 10.1186/bcr3455. PubMed PMID:23915805 PubMed Central PMC3979079.
Eguizabal, A, Laughney, AM, García-Allende, PB, Krishnaswamy, V, Wells, WA, Paulsen, KD et al.. Direct identification of breast cancer pathologies using blind separation of label-free localized reflectance measurements. Biomed Opt Express. 2013;4 (7):1104-18. doi: 10.1364/BOE.4.001104. PubMed PMID:23847736 PubMed Central PMC3704092.
Laughney, AM, Krishnaswamy, V, Rice, TB, Cuccia, DJ, Barth, RJ, Tromberg, BJ et al.. System analysis of spatial frequency domain imaging for quantitative mapping of surgically resected breast tissues. J Biomed Opt. 2013;18 (3):036012. doi: 10.1117/1.JBO.18.3.036012. PubMed PMID:23525360 PubMed Central PMC3605471.
Krishnaswamy, V, Laughney, AM, Wells, WA, Paulsen, KD, Pogue, BW. Scanning in situ spectroscopy platform for imaging surgical breast tissue specimens. Opt Express. 2013;21 (2):2185-94. doi: 10.1364/OE.21.002185. PubMed PMID:23389199 PubMed Central PMC3601741.
Laughney, AM, Krishnaswamy, V, Rizzo, EJ, Schwab, MC, Barth, RJ, Pogue, BW et al.. Scatter spectroscopic imaging distinguishes between breast pathologies in tissues relevant to surgical margin assessment. Clin. Cancer Res. 2012;18 (22):6315-25. doi: 10.1158/1078-0432.CCR-12-0136. PubMed PMID:22908098 PubMed Central PMC3500421.
Krishnaswamy, V, Laughney, AM, Paulsen, KD, Pogue, BW. Dark-field scanning in situ spectroscopy platform for broadband imaging of resected tissue. Opt Lett. 2011;36 (10):1911-3. doi: 10.1364/OL.36.001911. PubMed PMID:21593932 PubMed Central PMC3538824.
Laughney, AM, Krishnaswamy, V, Garcia-Allende, PB, Conde, OM, Wells, WA, Paulsen, KD et al.. Automated classification of breast pathology using local measures of broadband reflectance. J Biomed Opt. ;15 (6):066019. doi: 10.1117/1.3516594. PubMed PMID:21198193 PubMed Central PMC3032233.
Jiang, S, Pogue, BW, Laughney, AM, Kogel, CA, Paulsen, KD. Measurement of pressure-displacement kinetics of hemoglobin in normal breast tissue with near-infrared spectral imaging. Appl Opt. 2009;48 (10):D130-6. doi: 10.1364/ao.48.00d130. PubMed PMID:19340100 PubMed Central PMC2804884.
Search PubMed